Product Description
Product Description
LMZ-I Split Brake Wheel Type Plum Elastic Coupling(GB/T 5272-2002)
Plum elastic coupling has the characteristics of vibration reduction, buffering, small radial size, no lubrication, and easy maintenance. Suitable for starting frequency, positive and negative rotation, medium and low speed, medium and small power transmission.Not suitable for heavy loads and frequent replacement of elastic elements.
The structure of plum elastic coupling is simple. But when the elastic element is replaced, the half coupling shall be moved axially.LMS type easily replaces the elastic element without having to move the half coupling.
Product Parameters
NOTE:
N.m= Norminal Torque; HA= Hardness of elastic parts; rpm= Allowable speed of rotation;
d1.d2.dz= Diameter of shaft hole; Y L= Length of shaft hole;
Model of elastic parts; kg= Mass; kg.m²= Rotational inertia
1. Mass and rotary inertia are the approximation calculated according to the recommended minimum axial hole.
2. Diameter of shaft hole with* can be used for Z-type shaft hole.
3. a.b is the code for 2 different materials and the hardness of elastic parts. 
4. The pre-tightening torque of the connection bolt between LMZ-I brake wheel and half coupling shall not be less than the following table:
Note: Specifications of bolt; pre-tightening torque
Allowable Amount of Compensation of Jaw CouplingNote: Model; Maximum allowable error of installation (γ= radial; α= angular); 
Maximum allowable amount of operating compensation(γ= radial; α= angular); Axial clearance(χ)
The maximum amount of operating compensation refers to the relative offset of 2 axes which is allowed in the working state due to manufacturing error, installation error, vibration, impact, deformation, temperature change and other comprehensive factors caused by the change of working load.
Company Profile
HangZhou CZPT Machinery Manufacturing Co., Ltd. is a high-tech enterprise specializing in the design and manufacture of various types of coupling. There are 86 employees in our company, including 2 senior engineers and no fewer than 20 mechanical design and manufacture, heat treatment, welding, and other professionals.
Our company supplies different kinds of products: high quality and reasonable price. We stick to the principle of "quality first, service first, continuous improvement and innovation to meet the customers" for the management and "zero defect, zero complaints" as the quality objective. To perfect our service, we provide good quality products at a reasonable price.
Welcome to customize products from our factory and please provide your design drawings or contact us if you need other requirements.
Our Services
1. Design Services
Our design team has experience in Cardan shafts relating to product design and development. If you have any needs for your new product or wish to make further improvements, we are here to offer our support.
2. Product Services
Raw materials → Cutting → Forging →Rough machining →Shot blasting →Heat treatment →Testing →Fashioning →Cleaning → Assembly → Packing →Shipping
3. Samples Procedure
We could develop the sample according to your requirement and amend the sample constantly to meet your need.
4. Research & Development
We usually research the new needs of the market and develop new models when there are new cars in the market.
5. Quality Control
Every step should be a special test by Professional Staff according to the standard of ISO9001 and TS16949.
FAQ
Q 1: Are you a trading company or a manufacturer?
A: We are a professional manufacturer specializing in manufacturing various series of couplings.
Q 2: Can you do OEM?
Yes, we can. We can do OEM & ODM for all the customers with customized artworks in PDF or AI format.
Q 3: How long is your delivery time?
Generally, it is 20-30 days if the goods are not in stock. It is according to quantity.
Q 4: Do you provide samples? Is it free or extra?
Yes, we could offer the sample but not for free. Actually, we have an excellent price principle, when you make the bulk order the cost of the sample will be deducted.
Q 5: How long is your warranty?
A: Our Warranty is 12 months under normal circumstances.
Q 6: What is the MOQ?
A: Usually our MOQ is 1 pcs.
Q 7: Do you have inspection procedures for coupling?
A: 100% self-inspection before packing.
Q 8: Can I have a visit to your factory before the order?
A: Sure, welcome to visit our factory.
Q 9: What's your payment?
A: T/T.
♦Contact Us
Web: huadingcoupling
Add: No.11 HangZhou Road,Chengnan park,HangZhou City,ZheJiang Province,China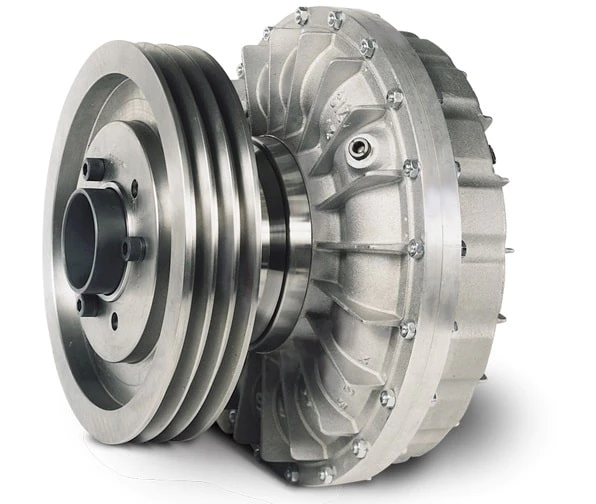 Common Maintenance Practices for Industrial Couplings to Ensure Optimal Performance
Proper maintenance of industrial couplings is essential to ensure their optimal performance and prolong their service life. Regular maintenance practices can help identify potential issues early on, prevent unexpected failures, and maintain the efficiency of power transmission systems. Here are some common maintenance practices for industrial couplings:
Visual Inspection: Perform regular visual inspections of the couplings to check for any signs of wear, damage, or misalignment. Look for cracks, corrosion, or excessive vibration marks that may indicate a problem.
Lubrication: Some types of couplings require lubrication for smooth operation. Follow the manufacturer's recommendations regarding the type and frequency of lubrication. Regularly check and replenish the lubricant as needed.
Bolt Tightening: Check the tightness of coupling bolts and fasteners periodically. Loose bolts can lead to misalignment and reduced coupling performance. Ensure that the bolts are properly torqued to the manufacturer's specifications.
Alignment Check: Regularly inspect and assess the alignment of the connected shafts. Misalignment can lead to premature wear and failure of the coupling. Realign the shafts if necessary to maintain proper coupling operation.
Balance Check: In high-speed applications, ensure that the coupling is properly balanced to avoid excessive vibrations and potential damage to the machinery. Imbalanced couplings can lead to increased stress on bearings and other components.
Temperature Monitoring: Monitor the operating temperature of the coupling during normal operation. Drastic temperature increases may indicate issues with lubrication or misalignment. Address any temperature abnormalities promptly.
Inspect Flexible Elements: For flexible couplings, inspect the flexible elements, such as elastomeric inserts or diaphragms, for signs of wear or deterioration. Replace worn or damaged elements to maintain the coupling's performance.
Regular Maintenance Schedule: Establish a regular maintenance schedule for the industrial couplings based on the manufacturer's recommendations and the specific operating conditions of the machinery. Stick to the schedule to prevent potential problems and ensure the couplings are always in optimal condition.
Keep the Environment Clean: Maintain a clean environment around the couplings to prevent the accumulation of dirt, debris, or contaminants that can interfere with their operation.
Training and Education: Ensure that personnel responsible for coupling maintenance receive proper training and education on best practices. Knowledgeable maintenance staff can perform inspections more effectively and identify potential issues proactively.
By implementing these common maintenance practices, industrial facilities can maximize the performance and longevity of their couplings, minimize downtime, and avoid costly repairs or replacements. Regular maintenance not only ensures optimal coupling operation but also contributes to the overall efficiency and reliability of power transmission systems in industrial applications.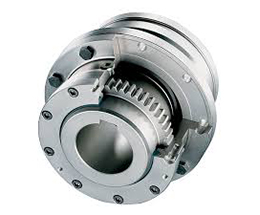 How do Couplings Contribute to the Overall Efficiency and Productivity of Industrial Processes?
Couplings play a crucial role in enhancing the overall efficiency and productivity of industrial processes by facilitating reliable power transmission and ensuring smooth operation of machinery. Their contributions can be summarized as follows:
Power Transmission: Couplings efficiently transfer mechanical power between connected shafts, allowing motors to drive various industrial equipment and processes. By maintaining a strong and dependable connection, couplings minimize power losses during transmission, ensuring that the maximum power generated by the motor is effectively utilized in the machinery.
Torsional Flexibility: Many couplings, such as elastomeric couplings and diaphragm couplings, offer torsional flexibility. This flexibility helps dampen vibrations and shocks generated during machinery operation, protecting both the machinery and the surrounding structures from undue stress. Reduced vibrations also lead to smoother operations, less wear on components, and improved precision in industrial processes.
Misalignment Compensation: Couplings can accommodate misalignment between connected shafts, whether it's due to thermal expansion, manufacturing tolerances, or dynamic loads. This ability to compensate for misalignment reduces the need for precision shaft alignment during installation and ensures continuous power transmission even under changing operating conditions. Consequently, machinery downtime is reduced, and maintenance efforts are optimized.
Overload Protection: Certain couplings, such as torque-limiting couplings and overload couplings, provide protection against sudden torque spikes and overloads. These couplings disengage temporarily when the torque exceeds a preset limit, preventing damage to machinery components and protecting the entire system from catastrophic failures.
Reduction of Noise and Vibrations: Vibrations and noise can be detrimental to both the machinery and the work environment. By effectively dampening vibrations, couplings contribute to a quieter workplace and improve the overall comfort and safety for operators and personnel.
Flexible Design and Application: Industrial couplings come in various types and sizes, offering versatility in design and application. This flexibility allows engineers and designers to choose the most suitable coupling for specific industrial processes, optimizing performance and productivity. Whether it's a high-speed application, a heavy-duty process, or an environment with challenging operating conditions, there is a coupling to meet the requirements.
Easy Maintenance: Couplings that are properly selected and installed require minimal maintenance. Many couplings are designed with features that facilitate easy access for inspections, lubrication, and replacement if needed. This ease of maintenance reduces downtime and ensures continuous operation of industrial processes.
Extended Machinery Lifespan: By reducing stress on machinery components, dampening vibrations, and offering protection against overload conditions, couplings contribute to extending the overall lifespan of industrial equipment. This leads to higher return on investment and cost savings in the long run.
In conclusion, industrial couplings are essential components that significantly contribute to the overall efficiency and productivity of industrial processes. By ensuring reliable power transmission, accommodating misalignment, providing overload protection, and dampening vibrations, couplings optimize machinery performance, reduce downtime, and enhance the overall industrial process efficiency.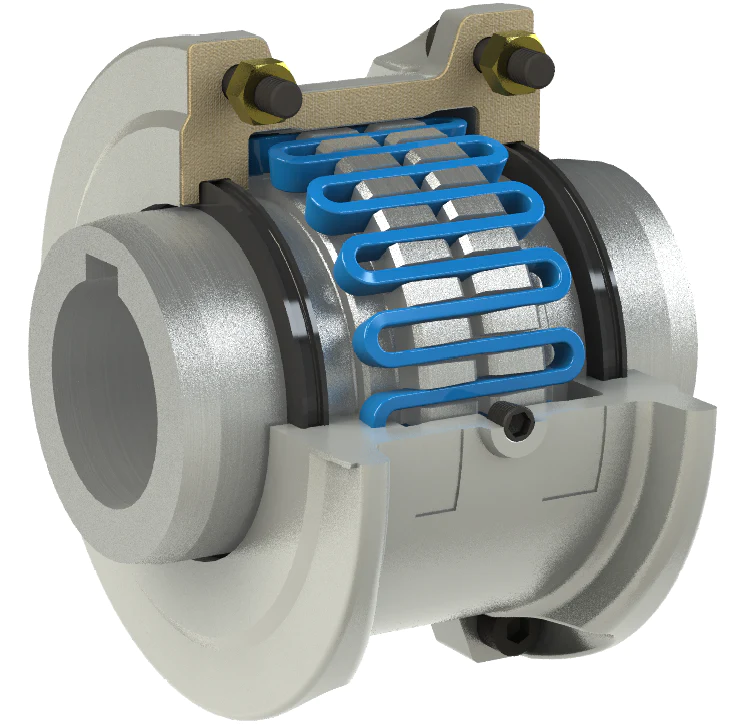 How to Select the Right Industrial Coupling for Specific Machinery or Equipment?
Selecting the right industrial coupling for specific machinery or equipment involves a careful evaluation of various factors to ensure efficient and reliable power transmission. Here are the key steps to guide you in choosing the appropriate coupling:
Analyze Torque Requirements:

Determine the torque requirements of the application, including the maximum and continuous torque. This information is crucial in selecting a coupling that can handle the required torque without compromising performance.

Evaluate Speed and Operating Conditions:

Consider the rotational speed and operating conditions of the machinery or equipment. High-speed applications may require couplings that offer precise balance and low vibration. Additionally, assess factors like temperature, ambient conditions, and exposure to chemicals or corrosive agents to choose a coupling material that can withstand the environment.

Identify Misalignment:

Assess the potential misalignment between the shafts. Determine whether the machinery is subject to axial, angular, or parallel misalignment during operation. Diaphragm couplings are particularly effective in handling misalignments, making them a suitable choice in such scenarios.

Consider Space Constraints:

Examine the available space and spatial constraints around the coupling area. Some couplings require more axial space than others, and selecting a compact coupling might be necessary in space-restricted applications.

Account for Shock and Vibration:

Understand the magnitude of shock loads and vibrations in the application. Grid couplings and elastomeric couplings, such as jaw couplings, offer excellent shock absorption properties and are ideal for applications with varying loads or high shock forces.

Check Misalignment Capability:

Ensure that the selected coupling can accommodate the expected misalignment without compromising its performance or causing premature wear on the machinery. Disc couplings, for example, are designed for precise alignment applications and may not be suitable for large misalignments.

Consider Backlash Requirements:

In applications requiring precision motion, consider the need for low backlash in the coupling. Some couplings, like jaw couplings, may introduce minimal backlash, which can be critical in precise positioning systems.

Review Maintenance and Installation:

Assess the ease of installation and maintenance of the selected coupling. Couplings that are easy to install and require minimal maintenance can reduce downtime and improve the overall efficiency of the machinery.

Consult with Coupling Manufacturers:

When in doubt, consult with coupling manufacturers or engineering experts. They can provide valuable insights and recommendations based on the specific requirements of your application.
By carefully considering these factors and evaluating the different types of industrial couplings available, you can select the right coupling that best matches the needs of your machinery or equipment. The right coupling choice ensures reliable power transmission, reduces the risk of premature failures, and enhances the overall performance and efficiency of your industrial applications.



editor by CX 2023-08-05